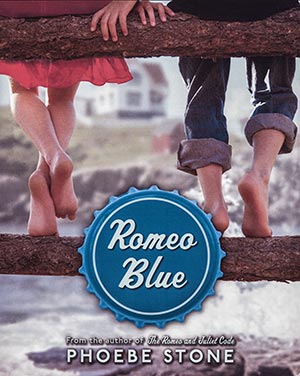 Romeo Blue by Phoebe Stone
Publisher: Scholastic/Levine
Published June 2013
ISBN 978-0-545-44360-9
"Coming of age in a time of war, feeling both loved and abandoned, clever and yet perplexed, Flissy is an engaging protagonist."
Meghan Cox Gurdon reviews Phoebe Stone's Romeo Blue:
The concept of a house full of secrets, or of a family or town swathed in hidden mysteries, is a wonderfully suggestive trope, lending itself to endless invention. Three novels* for young readers take the idea of secrets and discoveries in very different directions.
"When you live among a family of secret agents, you know much more than you should," explains English schoolgirl Flissy Bathburn in Phoebe Stone's Romeo Blue (Arthur A. Levine, 352 pages, $16.99), a novel that picks where 2011's The Romeo and Juliet Code left off. World War II continues to rage, and on the Maine coast the eccentric members of the Bathburn family—with whom 12-year-old Flissy was abruptly deposited by her glamorous parents in the first book—are engaged in clandestine work for Washington.
The sequel opens with Flissy still besotted with Derek, the 14-year-old foundling who lives with the Bathburns and who seems to be guarding his own dangerous secret. No one has heard from Flissy's parents, who were working undercover in Europe, and now, unnervingly, her Uncle Gideon (whom she learned was her biological father in the previous book) has begun practicing German and keeps a Nazi uniform in his closet.
Coming of age in a time of war, feeling both loved and abandoned, clever and yet perplexed, Flissy is an engaging protagonist. It is satisfying to uncover the different bits (as Flissy would say) of the many harrowing mysteries surrounding her and to conclude, as we do, with hope.
* The other two books reviewed with Phoebe Stone's Romeo Blue in the Wall Street Journal article May 24, 2013 — Children's Books: Tales of Mystery and Adventure by Megan Cox Gurdon were: Meg McKinley's Below and Ned Vizzini and Chris Columbus's House of Secrets. You can read the full review here.
Buffalo News:
"Haunting, lovely sequel to the highly praised The Romeo and Juliet Code"
Stone, who lives in Middlebury, Vt., specializes in excellent coming-of-age novels probing early adolescence, the bridge between childhood and adolescence, and creating memorable narrative voices.
This haunting, lovely sequel to the highly praised The Romeo and Juliet Code picks up the story of Flissy Bathburn, whose parents have left her with her grandmother in Bottlebay, Maine, while they are off in Europe doing something secret and dangerous for the Allied side. Her uncle Gideon, a teacher dubbed "Mr. Bathtub," fills in the parental role, but then himself must head for Europe on a mission. Stone beautifully evokes the blossoming relationship between Flissy and Derek, a foster child living with Grandmother Bathburn, and the different person Flissy has become from the child she used to be. Among the book's memorable characters are Flissy's colorful Aunt Miami and Miami's beau, the local postman, who turns out to be a gifted poet. U.S. spymaster William Donovan even makes an appearance. Stone is a marvelous writer, and she offers a vivid setting, in the small community of Bottlebay, while hauntingly evoking the terror of an adolescence spent with loved ones in danger, in a world at war, when the outcome of that war was uncertain and spies and Uboats were lurking about. Among her other excellent books for this age group are All the Blue Moons at the Wallace Hotel, Deep Down Popular and The Boy on Cinnamon Street.
—by Jean Westmore, June 2, 2013 | Buffalo News website